1st Giveaway - Win a free domain!
Hey people o/ Hoho rarely to update with giveaway post. Omg, seriously. This is the first time, I guess (?) I'm kinda hesitate of using English. Either Bahasa or English is a hard decision. Well, it's not actually. Hehehehe, saja je :p On this very damn tired bored day, I'll post right now. I've wrote a little already hahahaha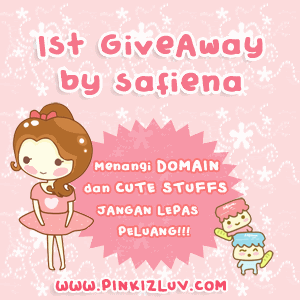 So for following the instructions, I have to make a wishlist. 5 wishlists. It's easy, bro.
Blackberry Bold 9900 - Damn I want it I want it. Nanti dah habis raya nak kumpul duit, keh...
iPad 2 - This, of course!
DSLR - For this, I really want Nikon instead of Canon. I don't know why ;~;
Mac Book Air - I just want it so badly
Make parents proud of me hehehehe
And then... I have to write what's the reason of me want the domain so badly, aite? Well, it's because I want it lah. Haha keh stupid answer ever. Is it because I've been dreaming this for so looooong. Since I started blogging. I really want it then I've tried so many ways but all I got is, to pay. They have the cheapest but since I am young 8D hehe since I am young then I does not have any Debit or Visa even my own credit card. Am I right? okay that's all people.
Well, the prizes are so wonderful ;~; If I have to choose one, I am pretty sure to choose the domain. Well, you've read that, right? Now, who I need to tag? Hehehehe *thinking* yes! Got it.